I've started to accumulate products I've used up in the past few months and my collection has become quite extensive. I'm proud of this endeavor because A) I stuck with a product long enough to use it all up and B) It gives me the perfect excuse to replenish my stash and C) I can give a full review on the empty product so you guys know what to spend your money on and what not to waste your time with.
Let's proceed,
// Garnier Sleek & Shine Moroccan Oil Treatment
Thoughts: I found this product at Target one day and I thought I'd give it a try for the price since I was in the market for a new hair product. I picked this baby up and away we went.
It is definitely an oil, so if you use too much your hair will become greasy; but if you need a little extra moisture or just something to smooth your hair with, this stuff is amazing. I've used Moroccan Oil in the past and it is highly comparable. And at a fraction of the cost. It really helps to condition the hair and makes it easier for your comb to go through.
Tip: When using this, start with a dime size portion on damp hair and concentrate it on the ends and work your way up the shaft. Too much of this product distributed near the roots will cause some major grease. For extra shine, add a pea size amount in your palms, rub your hands together to distribute the product evenly and then smooth down fly aways and add shine.
Thoughts: Meh. I can't really tell you what this product does or doesn't do. I would use it daily because of the great scent and because it was too expensive to just leave sit around. It claims to do 5 different things like smooths, add volume, condition, strengthen and polish. I never noticed volume, my hair did seem smooth but that's because I would use the Moroccan Oil with it. As far as strengthen and condition, I think those are some vague claims and my hair is already in good condition.
I really wanted this product to work since it's partially owned by Jennifer Aniston and let's face it, she's been a hair icon since her days on Friends. We all want her hair. But sadly, it didn't meet my expectations.
Tips: Don't waste your money. It is not worth it's $26 price tag.
// Aveda Air Control Hairspray
Thoughts: This will always, always, always, be a staple in my hair product arsenal. I've been using this stuff since I was a junior in high school (2007) and refuse to try anything else. Well, that's a lie, I tried Elnett and I couldn't stand the smell of it. This however has the most amazing scent and it is so light in your hair you won't even know you have anything in your hair.
Tips: Run, don't walk, to your nearest Aveda salon to purchase this puppy!
// Clinique Superfine Liner for Brows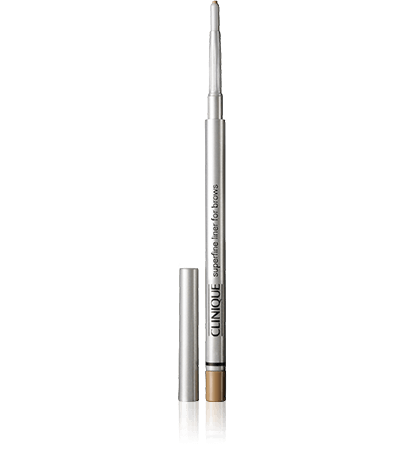 Thoughts: Loooooove. It. I've tried the Anastasia brow products, everything from the pomade to the brow whiz and I will continue to think this one is better. It gives great color payoff, makes your brows look natural and it's the perfect color for my hair ( I used Soft Blonde). Sometimes when I buy "blonde" brow products they don't always necessarily show up and then I have to really put some effort to look like I have brows. Not the case with this one. A little effort and you have natural, blonde brows!
Tips: There is one downfall however, I seem to go through a stick of this within a week. Not really, but it feels like it. The product in the stick is so pliable and soft that the tip seems to always be breaking off, thus having to use more product. If Clinique could just find a way to make this product a bit sturdier, it'd be great!
// Bath & Body Works Shower Gel
Thoughts: I'm a scent girl. I love a good whiff of something enjoyable and it doesn't stop when I get into the shower. A couple months ago I realized I was buying shower wash at Target every two weeks. Seriously. That stuff can get pretty pricey and I finally said enough is enough. So what's a girl to do? Put her shopping skills to the test and find a great sale on body wash! It just happened to be around the time of Bath & Body Works semi-annual sale. So I did some girl math and ended up with 12 bottles of body wash, used my '$20 off a $50 purchase coupon' (BBW always has coupons like these floating around) and ended up with 12 bottles of body wash for around $30. That's right, each of my body washes ended up being $2.50. Way better than spending $6+ at Target. Winning!
Tips: If you plan on doing some purchasing from Bath and Body Works, always look for coupons first. I tend to check out Retail Me Not or if you're buying online, use Ebates, where you get cash-back on your purchases. ( I love using this place when I shop online, getting money back for my Nordstrom purchases? Heck yes!)
Let me know if you guys enjoyed this installment of Product Empties in the comments section. It's fun for me to tell you what I love and think you should get and what not to spend your hard earned cash on!