Ya'll. No Buy April is KILLING me and making me so proud of myself at the same time.
Why does it always seem that you find the best deals or items that you HAVE to have when you have no money or put yourself on a No Buy? Is that God's way of making a joke? I'm not laughing. But at the same time, I'm to the point where I don't even feel like perusing stores anymore when I'm bored. Which is what get's me in trouble in the first place. But, that hasn't stopped me from enjoying a little online shopping and using my imaginary bank account to look at a few items.. I may or may not have a list of the things I want to buy when May rolls around.. And here are the things I would buy right now if I could… You know, with the money tree out back.
I want to pair these Sperry's with shorts and a gingham button down for the summer. It's taking mucho strength to not just go ahead and say, "to hell with it." For $50… I just might.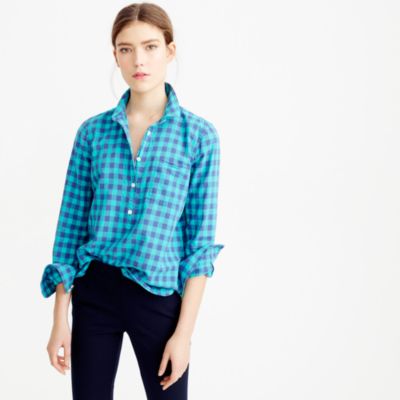 Speaking of a gingham button down, I quite fancy this one. 25% off with code THEBEST.
I really hate that this is my new favorite foundation. It might just be the be-all-end-all. It's perfection. And I mean that. The color 30 Beige is perfect for me right now. I got a sample of it in a magazine and I plan on using a gift card to purchase the full size. The smallest bit goes such a long way so I'm hoping I can stretch it out a few months because of the price… The small sample packet I got lasted me 3 applications!
My brothers wedding is coming up and I'm on the hunt for a dress. I am hemming and hawing over this one from Loft. I can't resist a scallop edge and the back is probably my favorite. Plus, when can you beat paying less than $55 for a dress? Use code SHAREIT to get the discount.
And if I get the dress, a new pair of shoes seems pertinent, right? Of course! And I'm loving these from Saks Off 5th.. Or these. Not to mention 6% cash back by going through Ebates.
Well, now that I'm done torturing myself, I'm off to enjoy my Friday! Work, followed by a Yoga/Nidra workshop class with my friend Lizzie at Yoga on the Lake and a glass of wine or two. Saturday morning will be spent in the salon chair getting my hair did and ending it with a date night with my mister! We'll round out the weekend with a marathon of whatever happens to be on HGTV and a gym session. Hey, all of that doesn't sound too bad!
Enjoy your weekend, everyone and come back Monday for a weekend recap! ❤
Teaming up today with the girls; Natasha, April, Darci, Christina, Andrea and Erika! Oofta, that's a lot of girls! Grab a cup of coffee and go read more Friday Favorites from them! : )