Long story short, I used to be a workout wear snob. My apparel had to be Nike, Zella or Lululemon or some type of expensive name brand. I could puke thinking about how much I spent on multiple pairs of pants I bought to sweat in. Now, I stick to the cheap good stuff. Old Navy and Target. Cheap, yet just as great or better.
The C9 Champion brand from Target has great top options for the gym, I really love their seamless long sleeve t-shirts right now. They come in fun colors but I like to stick to black.
If you have the Cartwheel App for Target, you can get 25% off all C9 apparel from now until November 4th. A great time to stock up on your fave's or try out a new brand.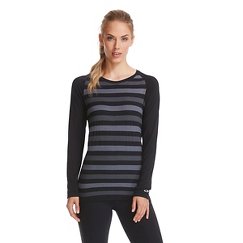 Their short sleeved ventilated run tee's are also great for working out if you're like me and don't feel ready for a tank top. Not only do they come in fun colors, they're currently clearance down for less than $8 online!
As far as pants go, I am loving Old Navy's high-rise compression crops. They go up high enough to help conceal that little bit of the tummy that everyone hates so much. They're my go-to workout pants and for the price of one pair of Lululemon pants, you can get about get about 4 pairs of these when they're on sale. Yeah, barf.
I'm not going to bash the Lululemon brand since I've had all my stuff for years and it's held up nicely, but there is no reason to spend $80 and up on a pair of leggings where you're going to sweat in them repeatedly. Of course if someone was going to ever so nicely gift me something from there, I'd obviously love it and use it but from my personal experience, I'm loving my Old Navy and Target work out apparel just as much. And I can workout peacefully knowing I'm not going to end up tearing an $80 pair of leggings and risk crying through the rest of a workout. That would be no bueno.