These are by far my favorite posts to do. Nothing makes me happier than getting a deal on a coveted item that I want, but don't necessarily need. Especially when it comes to trendy items such as scarves. Scarves are great to jazz up an outfit, add some warmth fashionably, or even to give as a gift – no size guessing needed!
When I saw a fashion blogger/Instagrammer rocking this scarf the other day, I thought it looked extremely familiar to one I owned and when I clicked to see where she got it (Nordstrom), my eyes almost popped out of my head at the price for what she paid. It's now sold out but it was going for $48!!!
Well friends, I have great news for you. If you cringed at the price tag like I did but still thought about buying it, because it is extremely adorable, but then realized it was sold out – hold onto your hats ladies, because Amazon has an identical one to this for only….. $16.59!!!
I was a little bit leery when I ordered this one from Amazon. Not being totally convinced that the quality was going to be good, but lo and behold I was amazed! Great quality, doesn't feel like it's going to fall apart anytime soon and I would imagine it's close to being exactly like the $48 one from Nordstrom.
If you're not keen on this color pattern, here are a few others that I've been loving too!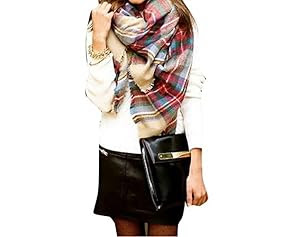 You can check out all the colors and patterns of these gorgeous blanket scarves HERE. I promise you will love them and the quality is great! Great for gift giving or stocking stuffers on a dime! 🙂